Easy Gluten-Free and No Wheat Recipes
Unique and Easy to Use Cookbooks*
with a
Remarkable New Technique!
No Corn, Soy, Milk, Eggs or Yeast!
Few Ingredients!
Deliciously Simple - Simply Delicious
(*Available in PDF format only)


COMING SOON!
Buckwheat Pete's
Easy Gluten Free
Baking
Improved Recipes for Bread, Pitas, Bagels and more!
No Corn, Soy, Milk or Eggs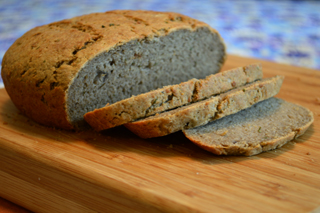 Now in one handy compact ebook all of Buckwheat Pete's best baking recipes. From crusty bread to tasty muffins and even a chocolate cake, Buckwheat Pete shows you how to make all of these these versatile recipes in your own kitchen with your own equipment.
No need to buy expensive specialty breads or frozen baked goods from your local grocery store. Now you can make these delicious treats fresh!


Easily adapted to vegan diets as well.

Available Feb. 2015
Buckwheat Pete Bakes Pitas & Tea Biscuits
Easy No Wheat and Gluten Free Recipes
No Corn, Soy, Milk or Eggsby
Peter de Niverville
29pages. illus. (Format: PDF only*)
ISBN 0-9688943-0-5
Buckwheat Pete Digital Productions
"...I have to tell you, despite not getting the recipe quite perfect yet, the rice tea biscuits are the best-tasting, nicest-textured GF bread analog I have tried
...thank you for thinking this up. I no longer dread baking."
(Mary Beth B., Baton Rouge, LA)
Buckwheat Pete's Muffin Treats
Easy No Wheat and Gluten Free Recipes
No Corn, Soy, Milk or Eggsby
Peter de Niverville
35pages. illus. (Format: PDF only*)
ISBN 0-9688943-1-3
Buckwheat Pete Digital Productions
"I ordered your muffin recipe book yesterday .
And made the blueberry buckwheat muffins. They were incredible..."
(Angie M., Roswell, GA)
Buckwheat Pete Bakes Bread, Bagels & English Muffins
Easy No Wheat and Gluten Free Recipes
No Corn, Soy, Milk or Eggsby Peter de Niverville
27pages. illus. (Format: PDF only*) 1.2MB file size
ISBN 0-9688943-2-1
Buckwheat Pete Digital Productions